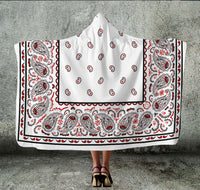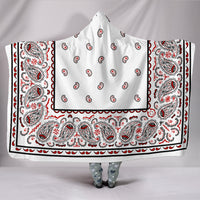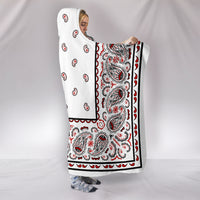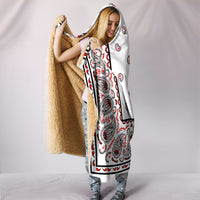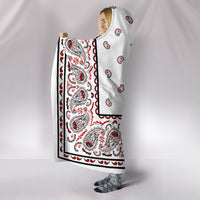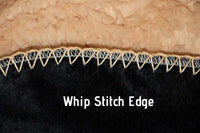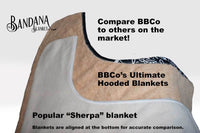 Ultimate Wicked White Bandana Hooded Blanket
Big and bold, this may be the coolest hooded blanket ever! No cartoon pixies or motivational quotes here, just 100% pure, classic bandana style for those with a more rugged edge. Your hooded blanket is perfect for camping, the ball game, rodeos, outdoor concerts, man cave decor and more. Makes and amazing gift!
Wrap on warmth
Velvety soft polyester exterior for beautiful color and vibrancy that will not fade
Interior is a plush, fleece-style polyester fabric for extra snuggly warmth and comfort
Edges are embroidered with a handmade whip stitch for maximum durability and a great homemade look
Eye-catching, traditional bandana style
Free worldwide shipping
Worldwide shipping included!
Your hooded blanket is custom made for you after ordering, so shop with care. BBCo can not offer refunds/exchanges for size or color changes. Please allow 2-4 weeks for delivery. Allow up to 45 days for some of the more off the beaten path international destinations.  Read our shipping guarantee on our FAQ Page.
Comes in 2 sizes:
The Story Behind the Blankets
My name is Nola Lee Kelsey and I am a graphic designer. Once in awhile I just know in my gut that a design will be a hit. I felt that when I saw my bandana work on these great hooded blankets. As a country girl from The Black Hills, who loves horses and motorcycles in equal measure, I wear the Hell out of bandanas. Be it Sturgis campfires or varsity ball game, I know I'd want one of these great blankets with me as well.
So, I took a leap of faith, kept these idea for myself and launched The Bandana Blanket Co. I hope you love my growing line of products as much as I do! Thank you for your support of small business and an independent artist/designers. 
Nola